FLASH NEWS!
I am über excited to be able to offer you, my loyal blog readers,
FREE TICKETS
to go see the next newest foodie film: "
The Hundred-Foot Journey
" starring the formidable Helen Mirren!
Synopis:
In "The Hundred-Foot Journey," Hassan Kadam (Manish Dayal) is a culinary ingénue with the gastronomic equivalent of perfect pitch. Displaced from their native India, the Kadam family, led by Papa (Om Puri), settles in the quaint village of Saint-Antonin-Noble-Val in the south of France. Filled with charm, it is both picturesque and elegant – the ideal place to settle down and open an Indian restaurant, Maison Mumbai. That is, until the chilly chef proprietress of Le Saule Pleureur, a Michelin-starred, classical French restaurant run by Madame Mallory (Academy Award®-winner Helen Mirren) gets wind of it. Her icy protests against the new Indian restaurant a hundred feet from her own escalate into a heated battle between the two establishments until Hassan's passion for French haute cuisine — and for Madame Mallory's enchanting sous chef, Marguerite (Charlotte Le Bon) — combine with his mysteriously-delicious talent to weave magic between their two cultures and imbue Saint-Antonin with the flavors of life that even Madame Mallory cannot ignore. At first Madame Mallory's culinary rival, she eventually recognizes Hassan's gift as a chef and takes him under her wing.
The special advance screening will take place on Thursday, July 31, at 7:30pm at the
Regal Cinema
in Richmond Heights.You're advised to arrive at 6:30pm to ensure entrance!
To snag your free tickets,
You can request as many tickets as you'd like!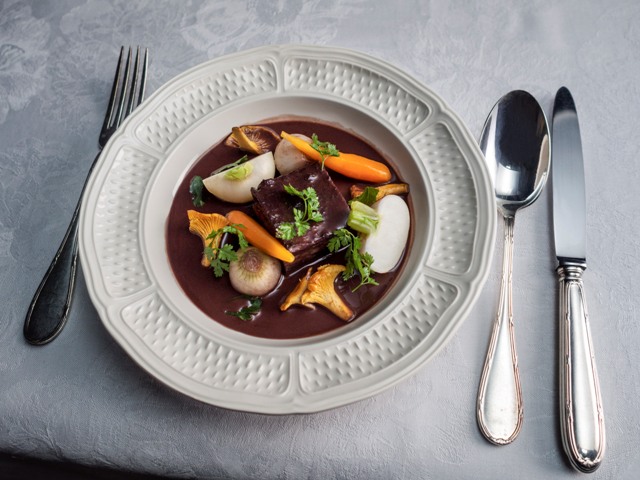 And for the movie's featured recipe for Beef Bourguinon a la Hassan (pictured above), here is the recipe for your exclusive enjoyment! Bon appetit, everyone!