This blog post is all about the music. But there are actually two parts: cooking music and dinner music.
First is the idea of
cooking music
(i.e., listening to music while you cook, duh). And why the heck not? It certainly helps make the time go by faster...and better.
If you're like me, you most probably cook alone in the kitchen, concentrating hard and in your own headspace. This is the perfect time to crank it up a notch and fill the room with the music you love. (You might even sneak in a few sways or dance steps along the way!)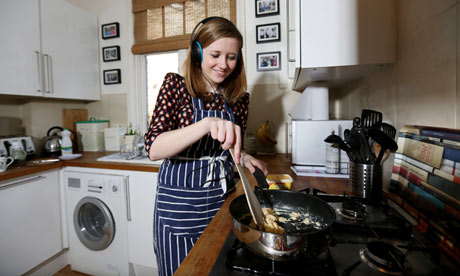 Photo credit: Graeme Roberts
Of course, you choice of music always depends on your own particular taste as well as your mood. Today, will it be an oldie? An R&B? Classical? Jazz? Country?
Believe it or not, there are specific cooking music CDs out there. For example, there's
Cooking Songs
by various artists,
Home Cooking Music
by various artists, and a list of
suggested songs by the type of food being prepared
compiled by blogger Rachel Wilkerson.
In fact, the popular blog, Food Republic, devotes an entire column to cooking music, appropriately enough called "Music to Cook To."
Read it here
.
And then there's
dinner music
.
You're having company over for dinner (or maybe it's a romantic evening for two instead) and you're planning to serve a beautiful meal. But you also want to create a beautiful
ambiance
. Hence, the flowers on the table, the dim lighting, the candles...and the music.
So what exactly should you play?
Here are some very interesting (and helpful) tips from:
You could always buy a
pre-mixed dinner music CD
on Amazon, or go ahead and simply create your own. Either way, it will be music to everyone's ears!
What songs/albums do you like to play while you cook or entertain?
(Fun fact: Did you know that several chefs in my book are also talented musicians in their own right? They include Dante Boccuzzi, Brandt Evans, Matt Fish, Steve Schimoler, and the late Sergio Abramof.)